Events

December 2019, Winter Solstice
Green Man Solstice at CV5 Community Allotment with Barry Patterson
Tree Dressing at CV5 Community Allotment with Greg Muldoon

January 2020, Reclaiming Christmas Trees/ the Start of the Year
Lunchtime Reading at the POD Cafe with Luke Kennard

February 2020, From Darkness to Light
Nan Shepherd Supper Club with Kirsten Norrie, Iain McKinnon and Lauren Sheerman
Reading at the CV5 Community Allotment with Kirsten Norrie and Iain McKinnon

February - March 2021, The Poetry of Growing
Music of Mushrooms with Lisa Franklin
Grow your own Poetry Making with Lisa Franklin






---
GREEN MAN SOLSTICE

Barry Patterson
December 2019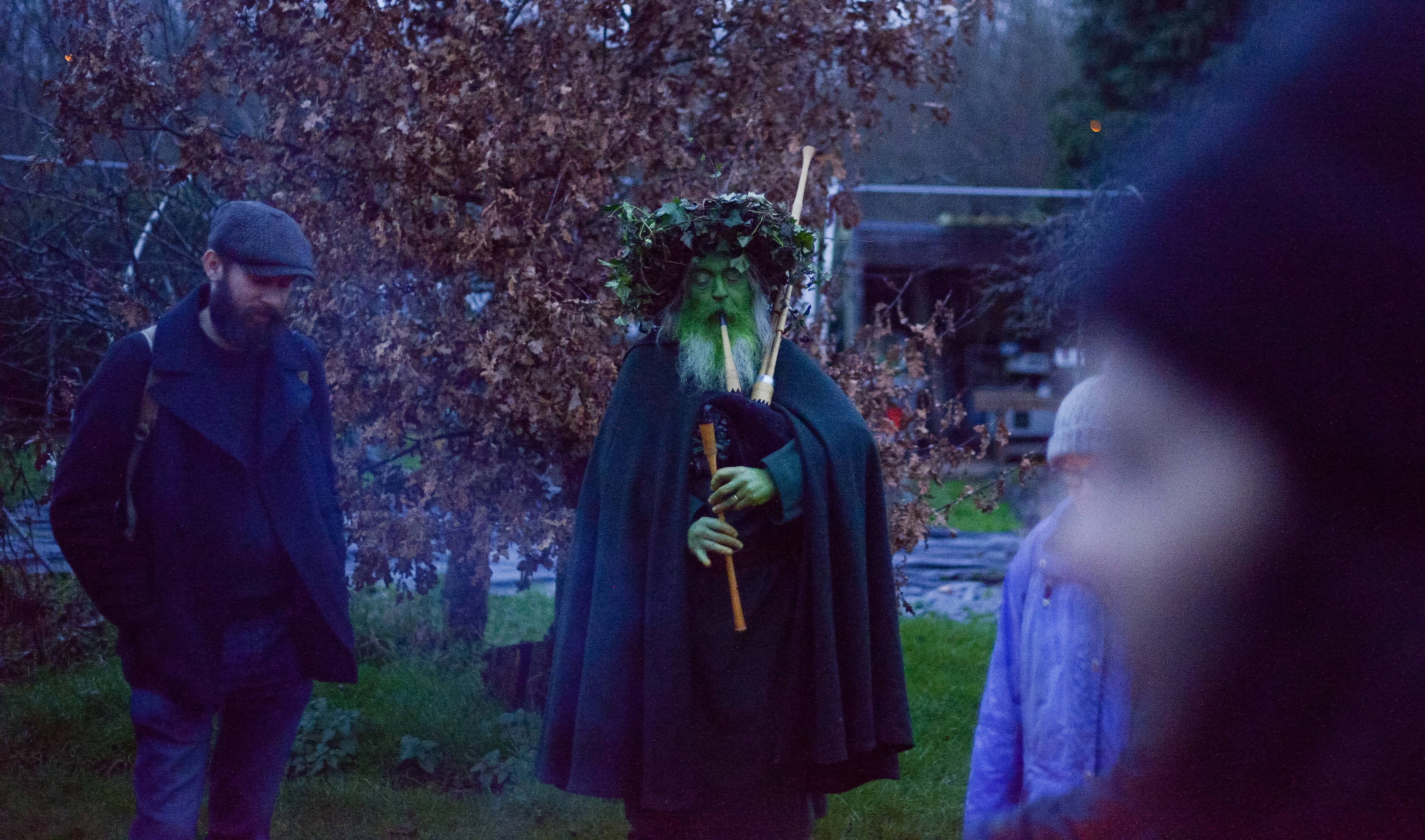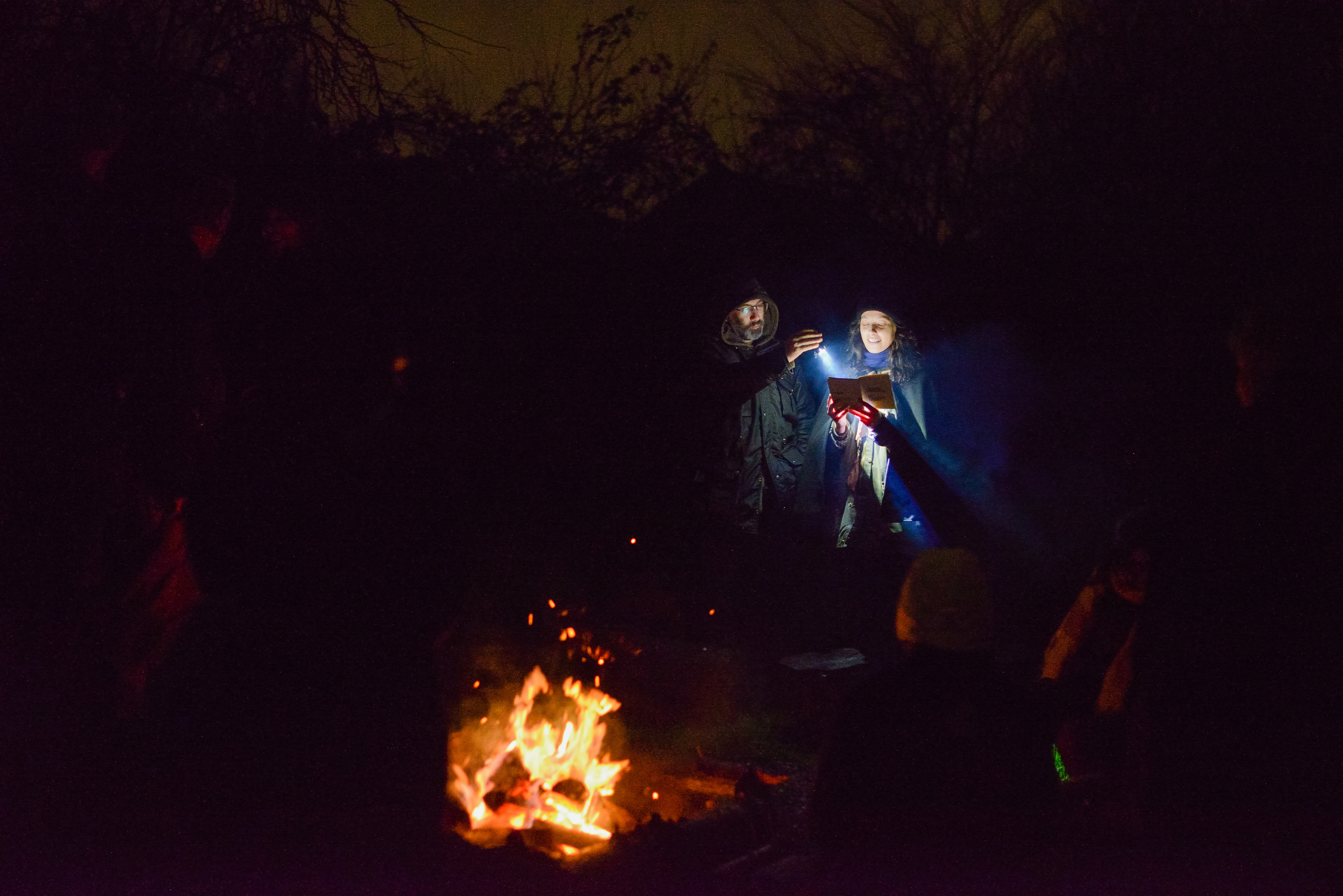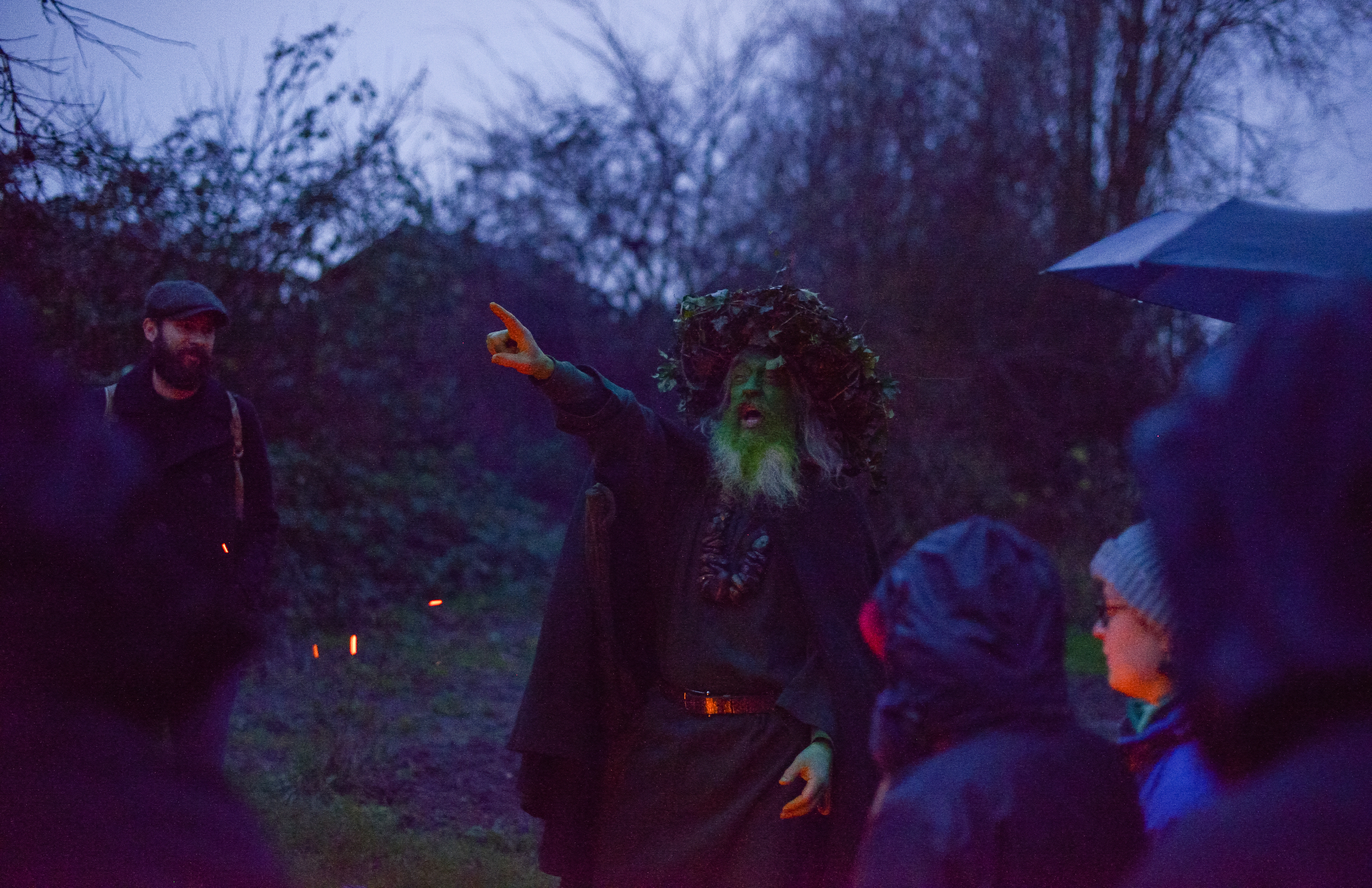 photographs by Marcin Sz
Barry Patterson's performance work can be accessed through
songandstory.co.uk.
underGROWTH celebrated the 2019 Winter Solstice at the CV5 allotment with the Green Man, in song and poetry.
"Our trees; our local woods and our threshold brooks, our parks and our ponds, our birds and our beetles need all the friends they can get! How do you put across the idea of caring for the environment without talking down to people? [...] The show explores our changing relationship with nature and the landscape through songs, stories and humour - ancient and modern."
extract from Barry Patterson's The Wild Man of the Woods.

---
TREE DRESSING
Greg Muldoon

December 2019
photograph by Food Union
Following our celebration of Apple Day in October, as part of our mini-launch, in December we celebrated Tree Dressing.

"Tree Dressing Day was initiated by Common Ground in 1990 and has grown to become much more than an expression of a love for trees. It is a chance for the whole community to gather and celebrate the leafy friends we all have in common. It's also a chance for communities to reflect on the social and cultural history of their local area, and the role trees have played in shaping this story."


Trees are so important to our needs as a species, and the needs of many species. Common Ground established the day to make space for us to celebrate the connections they bring. During this underGROWTH celebration, participants tied cloth strips and ribbons with messages of thanks to the trunks and branches of the trees at the CV5 community allotment.
---
LUNCHTIME READING

Luke Kennard
January 2020

Luke Kennard read from his back catalogue and shared some work-in-progress with underGROWTH on a collection that is now being published with Penned in the Margins. The work, titled '

Notes on the Sonnets

', responds to each of Shakespeare's 154 sonnets. These much-loved and world-renowned poems are still widely read today. When asked why he has undertaken such a bizarre, egotistical and foolhardy task, Luke replied: "a combination of impudence and imprudence."



#The Mathematical Principle of Mercy

When you treat a fragment as a complete text everything will be fine until the hypothetically definitive ending, then a dog barks, then the automated gate slides open. What happens now? There is criticism which can question everything bar the competence of the author. And there is criticism the sole purpose of which is to question the competence of the author. But don't use the spare tyre because then I wouldn't have a spare tyre. The moose crashed right through the fountain, lilacs strung between his antlers, flecks of salt on his great snout. I picked up my cornet, I undid the clasps on my cornet case, I stroked the fur lining as if to comfort it, I blew that cornet so hard a blood vessel burst in my left cheek. Oh prison moose, fermented apples, the ants you suck up just to feel alive. You have broken your leg and you are too scared and angry and hurt to let us anywhere near you.

© Luke Kennard

---
NAN SHEPHERD SUPPER CLUB

Kirsten Norrie, Iain McKinnon, Lauren Sheerman
February 2020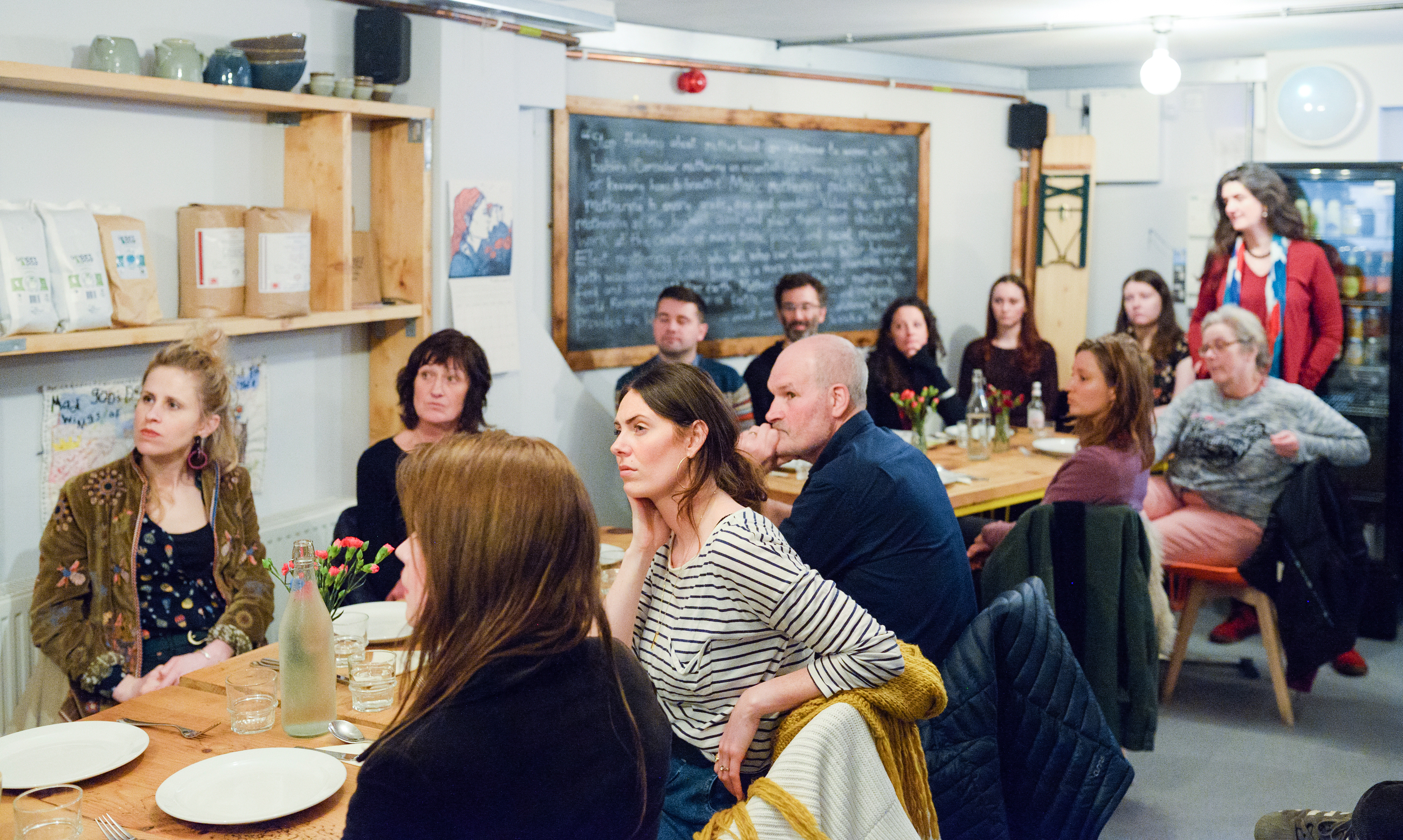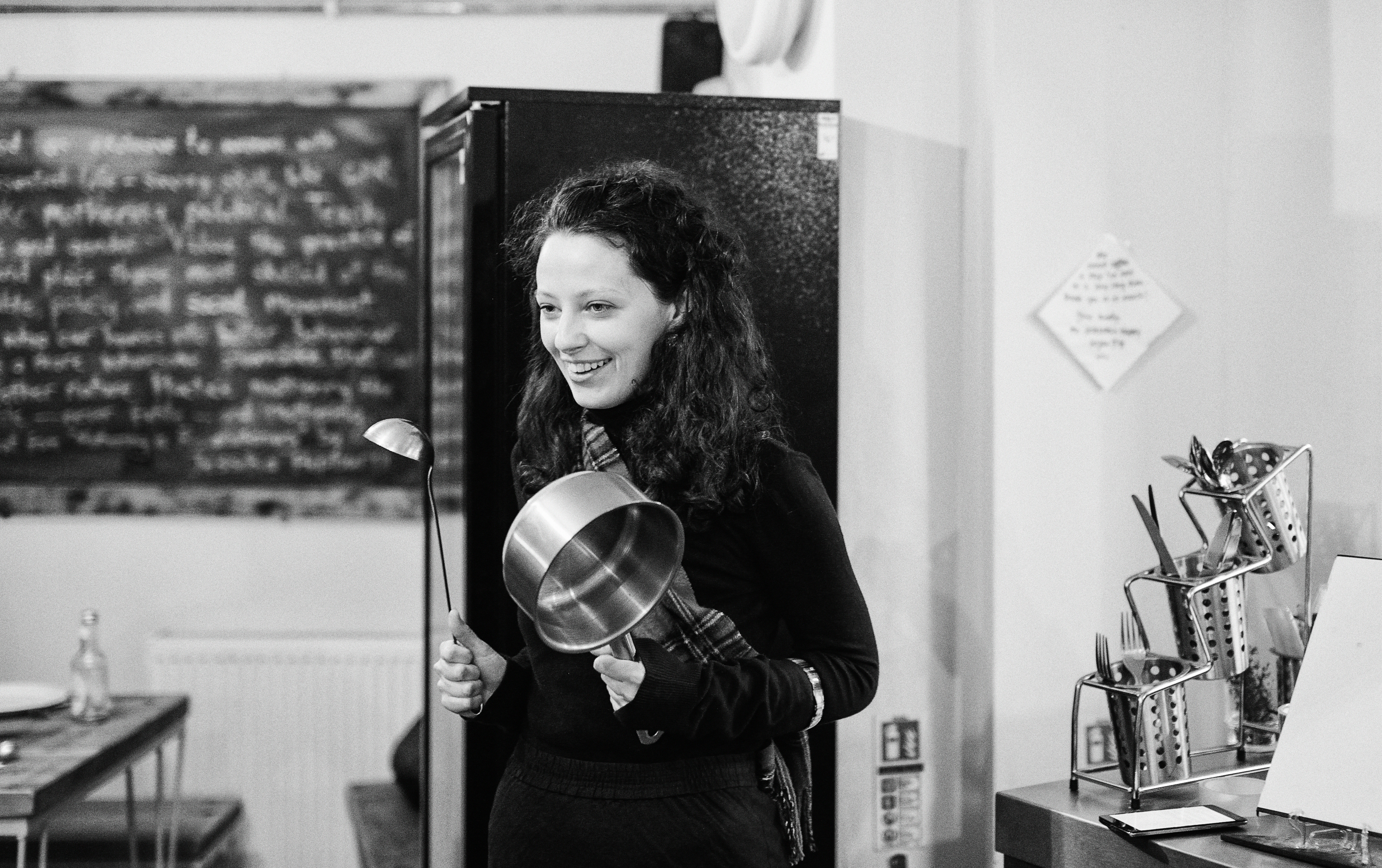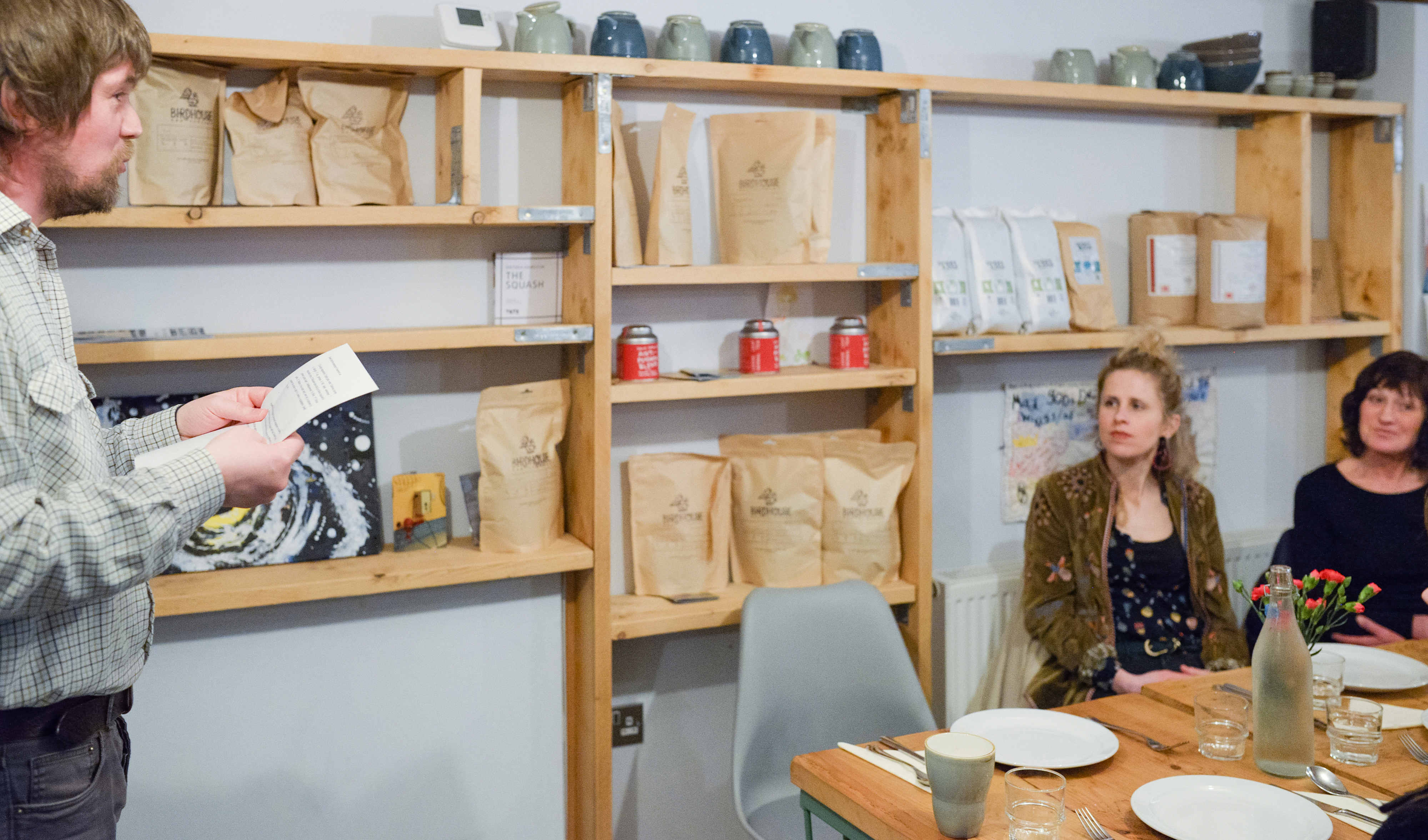 photographs by Marcin Sz
A review of the night, written by Hannah Williams, can be found
here

.
Listen to two Gaelic songs performed by MacGillivray with Atzi Muramatsu on the cello
Listen to A Story from Skye told by Iain MacKinnon
Kirsten shared work from a selection of Gaelic poems and songs collected and translated by Alexander Carmichael, called
The Sun Dances: Prayers and Blessings from the Gaelic
. She left her copy for the Pod Café, for when restrictions lift.
~
Kirsten Norrie's work is accessible through
https://www.kirstennorrie.com
Iain MacKinnon's is accessible
here.

An addition to Burns night to celebrate the legacy of women and their connection with nature. The Nan Shepherd night was an evening that celebrated women, nature, and the life and work of Scottish 20th Century writer and poet Anna (Nan) Shepherd with Iain MacKinnon and Kirsten Norrie.
Cave of Water/ Cave of Fire: Uamh-uisge/ Uamhe-teine
summons a voice of the Scottish Highlands: Nan Shepherd, brought to life through word, music and song by poet and musician MacGillivray and Iain MacKinnon, a native of Skye, academic and writer. The cave is a theme central to Gaelic consciousness and embedded in the associations made with river, waterfall and mountain - all fundamental to the bedrock of Shepherd's walking and thinking.
Extract from
The Nine of Diamonds: Surroial Mordantless
(Bloodaxe Books)
II
I was young on hope and en-wildening expectation,
in the colour bitterness of this Gaelic garden.
Such star expulsion, canker-witted and rotten,
gave fumigation to souring dreams, furnishing the loss
of new rubbed leaves, ones stun-crushed by disbelief
into freshly perfumed poison.
Witless and stark they rustled; the darkling sedge
bloomed the last of its bud-punctured petals,
searing through tightness like nettle wands
brandished in whipping tips when the next season brightened.
What canticle of water-star root, hereditary dip-water,
flea-water chosen; that bright-hipped, blushed black
when the fires were scrying and I wept in the sod-dark
of vegetation weakened with flame.
The hedge-lip of stars and dereliction,
water that stains the grief of its own tremendous gestation;
nothing being taken without thoroughly knowing
the symptoms of its undertaking.
And simmered young, mummies thrum,
paste of sugar-fly, paste of polywater tree
and soldered to my eyes plaster-stars moult
flakes of preservation.
In youth I walked that fire-addled garden
the concubine of rusting trees, now filled with lumbering bees
and no-one to siphon off their sweetness,
while the wild glen raged with the last of the roses -
filaments of ashen compression
like the ashen faces each lyant morning,
ashen in the weak crease of dream,
compressed to the early ingredients of diamond.
Click
here
for further poems Kirsten shared with us during her micro-residency, from
her

Bloodaxe collections
.
---
MUSIC OF MUSHROOMS &
GROW YOUR OWN POETRY MAKING

Lisa Franklin
February - March 2021
A Study in Growth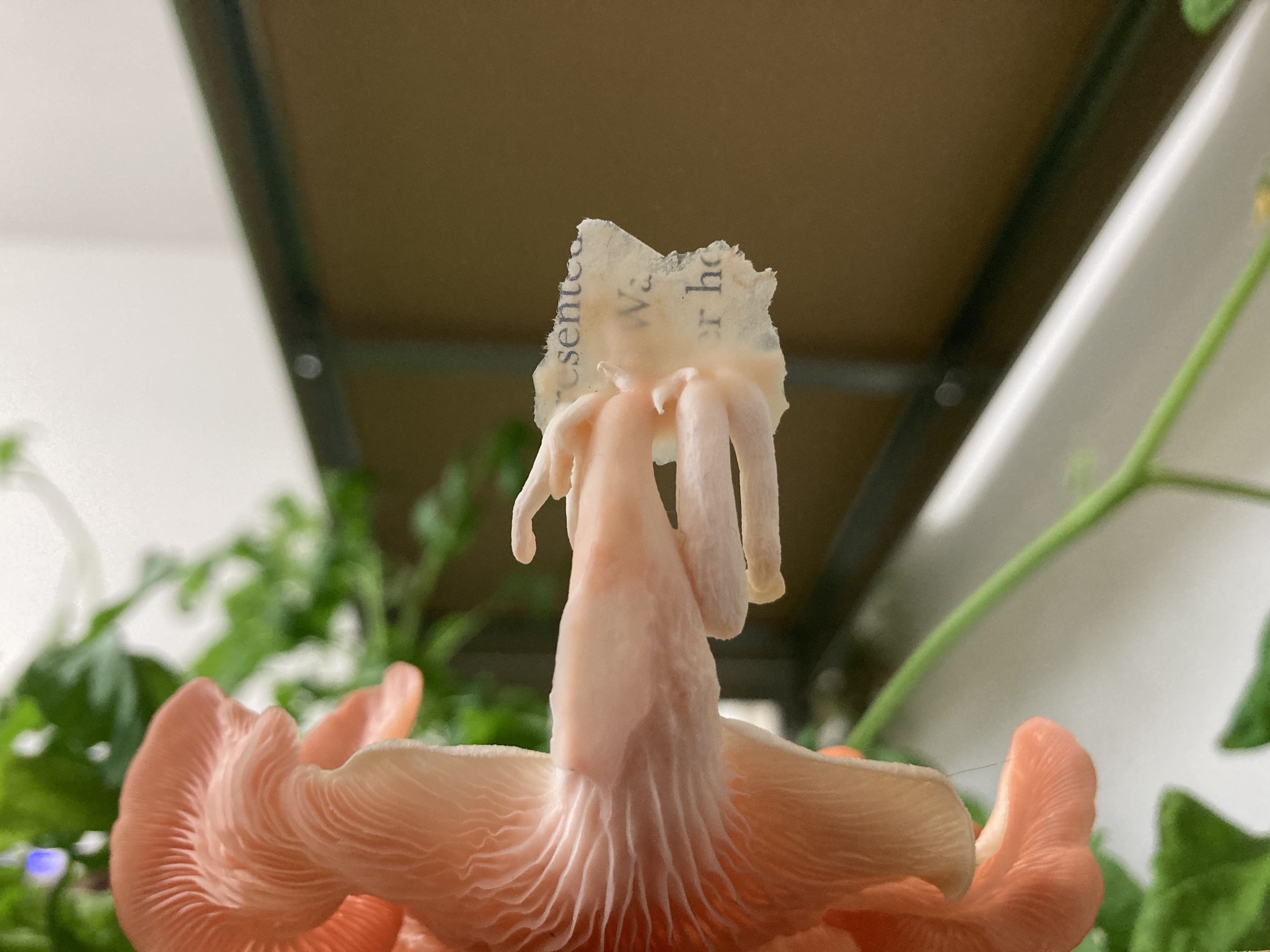 A Study in Process
'A Study in Process' is an online zine produced by Lisa Franklin on how to grow mushrooms in re-purposed books. The zine is available for viewing
here
.
More on Lisa Franklin's work can be found
here
.