I have fond memories of gardens. Both my grandmothers had greenfingers and our garden was full of tea roses that Dad would grow for Mum.

The back garden of my childhood home had a lawn that was often left to grow long. Our cats, their ears just visible, would leave trails like tiny tigers in the grass, leading to flattened nests. When I was about eight years old I was allowed a part of our garden as my own and I dug it over dutifully, but nothing would grow. Looking back this was not surprising as my patch was about 1ft by 4ft right up against the trunks of a row of leylandii. It was dry, shady and full of tree roots. On the edge of this area though I managed to make a rockery with the stones I had dug out and plants given to me by a kind neighbour.

Eventually twigs and cuttings got dumped on my plot and that, you would think, was the end of that. However this heap was soon teeming with life, insects and a bumblebee nest which I regularly poked with a stick just to see what they were up to.

We lived on an estate near greenbelt oak woodland. No lordly landowner ever had a parkland like this to wander in. In those days it was normal for children to roam unchecked all day if they wanted and I did, as long as they came back at dinner time fairly clean and with both wellies. I got to observe all sorts of habitats and species. I would come home and try to draw them or make homes for them. I was lucky again to have parents who indulged me with Observer's books, paints and paper for birthdays and Christmasses.

The woodland I played in with its trees and wildlife has long since been built over and I have lived in many rented rooms and houses. But I never feel that a place is welcoming unless there is some space for nature and gardening - a pot on a balcony or the companionship of a tree through the window. At present 'my' garden is small and has views over farmland. Within its boundaries there is a microcosm: the drawings and paintings I make there represent to me feelings, events both personal and of the wider world outside. I am not a botanical illustrator but I do like natural shapes and lines. Each plant has its own personality changing throughout the year and often when I paint or draw these plants, the images take on my preoccupations.

When I plant in the soil it's often a bittersweet experience. I know that when we leave this house the landlord will spray the garden with weedkiller and return it to a blank canvas for the next tenants. But I will take with me a hydrangea in a pot, a descendant of one bought by my Mum as a gift to my Nan. I will gather plants given to me by Dad and plants grown by my children when they were small from conkers and seeds. I will take their gifts of fallen feathers and nestless egg shells.

Now my children are grown they may not remember watching baby spiders huddle up around their mother as the sun goes down but respect for nature remains as part of who they are.

I hope I will have my own garden one day. Then I will plant out my pots. I will plant young trees, put down roots, let the grass grow long and then I will be home.

Spring seedlings.
Oil, pencil on board.
Before I mow the lawn.
Pencil on board.
Buddleia
. Oil, pencil on canvas board.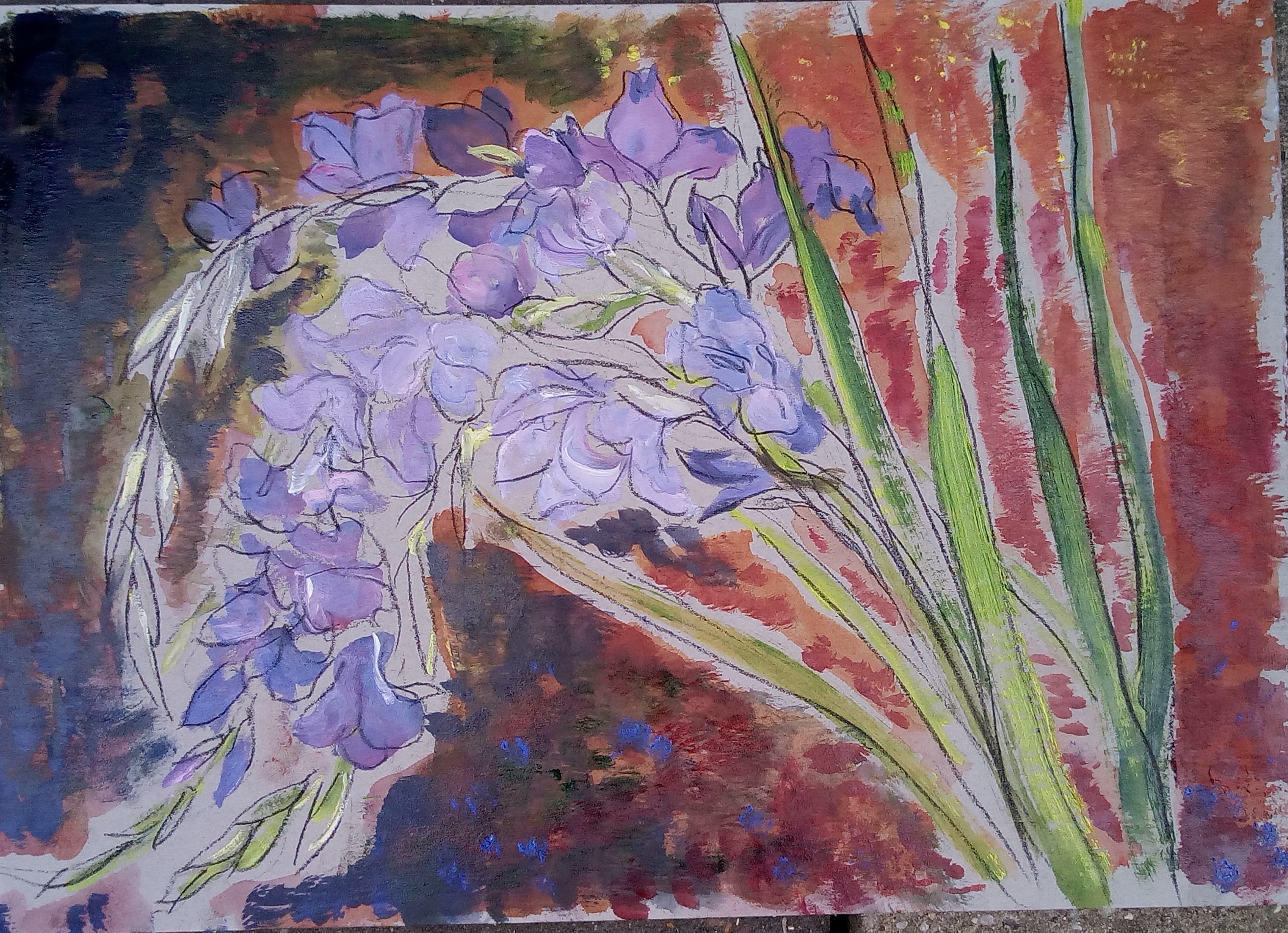 Dad's Gladi.
Oil, pencil on board.